2017 – Alfred Lam Chun Wang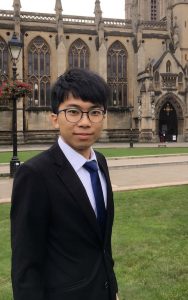 2017 Bristol Hong Kong Scholar
– Alfred Lam Chun Wang
Our current scholar, Alfred Lam, has written to us sharing his life and study at Bristol.
—
MSc Finance and Investment
The United Kingdom is one of the frontrunners in FinTech sector. As a FinTech enthusiast, the University of Bristol is the best choice for me to pursue my postgraduate degree in Finance and Investment because Bristol is the home of many FinTech firms in the United Kingdom. Besides, the University has been offering various networking opportunities with current practitioners since our first week at Bristol. I truly feel that Bristol is a city full of opportunities and I am blessed to be surrounded by lots of talents from across different disciplines.
Apart from developing algorithms and conducting researches, my first two weeks at Bristol have already been so rewarding as I met so many inspiring friends from different countries. I look forward to beginning my adventures with my new friends here in the best city to live in the United Kingdom.
I would like to take this opportunity to express my deepest gratitude to the committee of University of Bristol Alumni Association, Hong Kong Branch for their kind support and encouragement. I hope to contribute to Hong Kong with the education and insights in FinTech which I obtained from Bristol after my return.